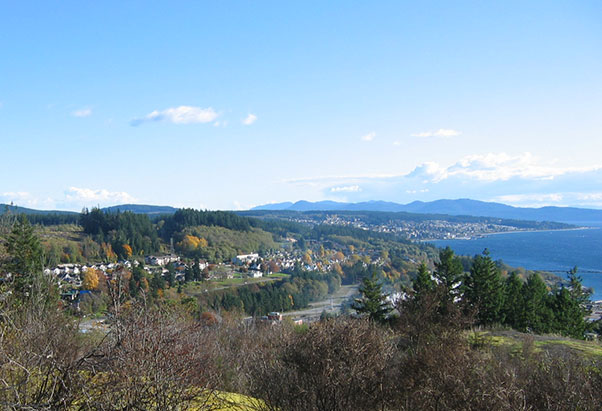 The diverse communities of the Powell River area:
Westview
Overlooking Malaspina Strait and the islands, in the heart of the city, many businesses and services can be found here, as well as parks, festivals and nearly 3000 homes. Favourite spots include Willingdon Beach Trail, the Recreation Complex & Seawalk.
Grief Point
Nearly 700 homes enjoy a nice ocean view in this very desirable area.  Favourite spots: Grief Point Park & Penticton Street trails.
Cranberry
Possessing a vibrant culture of its own, the Cranberry Lake district includes nearly 1000 homes, businesses, galleries and several parks. Favourite spots: Valentine Mountain, Mowat Bay & the Curling Club.
Townsite
Steeped in history and proud to be one of Canada's National Historic Districts, Townsite enjoys gorgeous ocean views. There are over 400 homes and businesses in Townsite. The vast majority of them are heritage buildings dating from 1910. Favourite spots: Patricia Theatre, Second Beach, Tennis Courts & Lawn Bowling Club.
Wildwood
A little more rural than the rest of Powell River, Wildwood Heights is an area of organic farms, hiking trails, services and over 400 homes. Favouite spots: Scout Mountain, Wildwood Bluffs, Powell Lake Marina & the Italian Hall.
North/Lund
Start of the world's longest highway, Highway 101, Lund is home to 800 residents and a tourist destination.  From Sliammon to Desolation Sound, the appeal of the ocean, forest and nature calls. Favourite spots: Dinner Rock, the Gazebo & Okeover Arm Provincial Park.
South/Saltery Bay
Travelling south from Powell River, for a change of pace, try going through Paradise Valley. Tucked into many lanes, you will find farms, artisans and vacation homes. Enjoy the seaside charm of Pebble Beach, Black Point & Myrtle Rocks. Favourite spots: Sunshine Coast Trail, Canoe Route, dive to the mermaid at Saltery Bay Provincial Park, Zunga & golf.
The Islands
Sand, sea and sun. The islands of the Powell River Regional District are unique and beautiful in their own ways. Texada Island is just a short 35 minute ferry ride away, with two villages, farms and rural properties. Savary Island, accessible by water-taxi has a number of full time residents, and a host of happy visitors and vacation home owners. Favourite island spots: Shelter Point, Marble Bay & Indian Shores
…. the diversity of Powell River